The Best Wardrobe For A Newly-Wed Indian Bride
Posted by KRISHAN KUMAR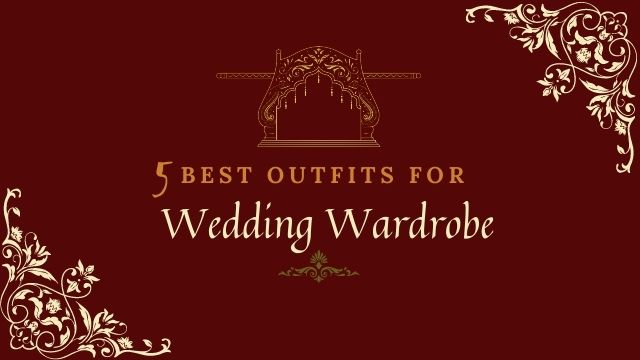 Weddings are the ideal occasion to flaunt one's fashion sense. When done right, your wedding ensemble can make you a trendsetter among your peers, earning you the respect of the most fashionable members of your family. However, with just a few things done wrong, you will end up feeling, not only out of place but extremely uncomfortable. Keep scrolling to check out our collection for Post Wedding Dresses.
You lovely ladies, you must not miss a beat in dressing up for wedding celebrations? We can assure that you are going to pick appropriate outfits for your special days. Let's look at some of our most popular wedding wardrobe choices for these timeless divas.
Top Recommendations For Post Wedding Dresses
"Living around a plethora of cultures in a diverse country like India, brides have multiple hues to choose from. While some brides like to go classic with reds and maroons, other brides prefer specific soothing hues like pastels. And many today like sunshine hues like yellows, greens and more to wear after their wedding."
It is not easy to choose the perfect outfit to wear after your wedding. However,  we are here to make your decision easier. We have listed some of the best ones for you to rock your post wedding days.
So, if you're getting married or simply love lusting after , below are the trends designers are most excited to see this year.
1. Evergreen Anarkali in Ajrakh Print 
To begin with, royal and modest, Anarkali suits can never fail you in making an instant impression. Since historic times, Anarkali has remained synonymous with celebrations. The unique combination of the fluid silhouette and the dreamy flare, make anarkalis a gorgeous pick for ladies of all ages and body types. Furthermore, this outfit can easily fit its ambiance to wear for a bright and playful celebration post your wedding to glam and fancy reception party. As a result, the outfit will make you look put together effortlessly.
Additionally, accessorize it with your ethnic jewellery pieces that you bought to wear after your marriage. Imagine yourself wearing this with your Mangalsutra; you will look absolutely amazing. Shop this amazing look by clicking here.
2. Sharara Suit in Mul-Mul Cotton 
Another pick from historic times and royal courts of Mughals- Sharara suits are as graceful a pick for wedding wear as an Anarkali, and more playful. Like Anarkali, a sharara suit will look as flattering on a beautiful lady with curves, as it will on a girl with an athletic body. What more? The relaxed silhouette of sharara suits will give you that effortless flair while also allowing you to comfortably enjoy the celebrations around without a fuss.
So, get ready to look one of the most stylish and elegant newly-wed brides by wearing this gorgeous light pink sharara.  Certainly, you are going to the center of attraction of every party and get together.
Further, this color is perfect for the bride who might not want to stray too far from tradition, but still wants a hint of playfulness. By wearing this, you will glow with more confidence.
3. Anarkali Suit Set in Contrast Shade
For a more modest yet splendid look, you can always go with a gorgeous colored anarkali suit set. This pink anarkali in magenta and red color in contrast is the better choice for all body types. It's just awesome on the newly-wed brides.
You can easily pick this for a modern and less ornate design. That being said, with all those long layers, anarkalis are always make a great pick for winter weddings and less so for summer or spring ones.
Furthermore, you can team it up with a statement necklace set and stunning earrings with it. We guarantee you , you will grab all the praises by your near and dear ones.
Also read:
Further, you might love reading our other articles.
Top fashion Trends For You to Flaunt In Winters
Top fashion Trends For You to Flaunt In Winters
Understanding the Rich History of Hand Block Printing
Butti Block Printing - Preserving The Art of Jaipur
Timeless appeal of Mul Cotton and Muslin Cloth
Ethnic Wear For Indian Dance Festivities: Latest & Trendy
4. Firozi Gold Handblock Anarkali Set
In addition, this firozi anarkali has both warmth and cool effect so have the best of both worlds. The look is quite traditional and comfortable as well for the newly-wed brides. Only the outfits won't be enough for you to carry a perfect attire for you as a just-married woman.
When it comes to dressing up for post wedding times , be it a festival or a wedding ceremony, nothing can take away the regal and timeless charm of anarkalis. One of the most graceful outfits for newly-wed bride, is easily an impeccable choice for ladies when they want to nail a simple look with a distinct class for any celebration. And nothing can do the job better than a an elegant anarkali with this beautiful golden handblock print.
5. Sharara Dupatta Set in Modal Fabric 
Last but not the least, one of which will shine upon your soul like no other is this green sharara dress. Hence, featuring the trendiest and the latest sharara suit design, we bet this blog is one huge inspiration for all you to-be-brides! Designed in Modal material, the most breathable and durable fabrics of all times.
Sharara is the outfit that has always been a source of attention in the Pakistani fashion trend updates. And now modern women love to wear it with pride and grace.
To add to it, while you can also wear this sharara suit for other pre and post wedding ceremony of yours, it'll befit your intimate wedding look the best!
To summarize, we think these absolutely stunning suit designs are surely for your glamorous and exquisite post bridal look. With these trendy outfits, your look surely is going to be one in a million and we just cannot stop adoring these beautiful pieces. Pin down your favorite ones now for the upcoming weddings.
As well as, read these:
Casual & Simple Dresses- Just For You!
Bagru Print- A Traditional Heritage Of Rajasthan
Top 5 Indian Bridesmaids Outfits
Dabu Printing- Explore Rich & Ancient Handicraft Of Rajasthan
Top Work Outfits To Ace The Office To Party Transition
Collection 2019
Sale 70% Off
Third slide