The Ultimate Guide To Garment Care For Hand-crafted Ethnic Wear By Baisa Crafts!
Posted by BAISA CRAFTS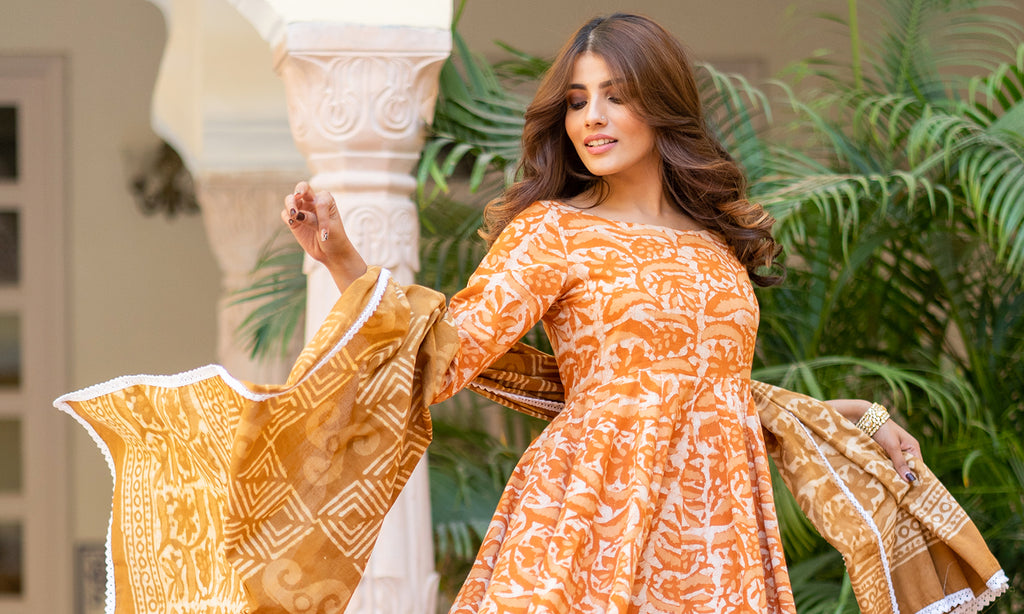 At Baisa Crafts, we believe that every piece of our hand-crafted ethnic wear collection is a work of art that deserves to be cherished and cared for. Our team always wants to ensure that your outfits maintain their pristine condition for years to come.
In this ultimate guide, we will share some essential tips on how to care for your hand-printed/ hand-crafted ethnic wear, so you can enjoy wearing them for special occasions or everyday elegance.
Gentle Hand Wash or Dry Clean
To keep your ethnic wear looking its best, we recommend a dry wash or gentle hand wash with mild detergent. This helps to preserve the delicate hand-dyed fabric and intricate hand-prints or embellishments. You must avoid using harsh chemicals as they can damage the hand-made fabric and fade the colours.
Indoor Drying
When it comes to drying your hand-crafted ethnic wear, it's important to be gentle and cautious. We suggest drying your garments inside-out indoors to protect them from direct sunlight or an extremely cold environment. Excessive exposure to sunlight can cause fading, while extreme cold can make the fabric brittle. By drying your garments indoors, you ensure they maintain their vibrant colours and longevity.
Steam Ironing
To maintain the luxurious look of your hand-painted ethnic wear, we recommend using a steam iron. Avoid using excessive heat, as it can damage the fabric and its embellishments. Gently iron your garments inside out to remove any wrinkles and restore their original elegance.
Storage in Dust Bags
In Dabu Printed and Bagru Printed outfits, we use natural colours and dyes to create most of our beautiful hand-block printed attires. To preserve their integrity, we suggest storing them in dust bags. These bags protect the fabric from dust, moisture and insects, ensuring that your garments stay fresh and vibrant.
NOTE: For our Dabu Printed garments, it is particularly important to avoid exposure to air or dust to minimise fading and preserve the quality of the print. You should also keep in mind to spray your perfume from a distance to protect your hand-crafted ethnic garments.
Taking good care of your ethnic wear is an essential step in ensuring longevity and beauty. By following these simple tips, you can maintain the royal and beautiful aura of your Baisa Crafts garments for years to come.
To explore our exquisite collection of ethnic wear and experience the regal elegance of Baisa Crafts, we invite you to visit our website. You can easily discover the perfect attire for your special occasions and embrace the grace and sophistication of traditional clothing.
Visit our website today www.baisacrafts.com and embark on a journey of timeless style and magnificence. Your wardrobe deserves the touch of royalty that Baisa Crafts brings!
Happy shopping!
Love,
Team Baisa Crafts
Collection 2019
Sale 70% Off
Third slide