Anarkali Suits Collection - Have a Look at the 8 Best Anarkali Suits
Posted by KRISHAN KUMAR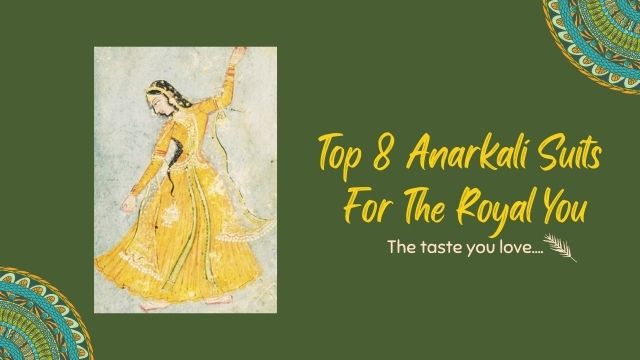 Anarkali suits are a raging fashion trend now. Flip open any Indian fashion or check out any award show, you will definitely find a good number of actresses wearing this outfit. Hence, if you still do not have an Anarkali suit, you should get one right away. For that, check out the anarkali suits collection we curated for you.
Baisacrafts presents a refreshing collection of these suits in different colors and fabrics. As fashion conscious women never let their wardrobes go out of fashion, it is now time to get your hands on a few Anarkali suits.
Evolution of Anarkali Suits 
The Mughal Era in India is now a history and everything related to this era has either vanished or have long been forgotten. Except for two things and they are Mughal cuisine and Mughal style of dressing. 
It's relevant in the Indian fashion scene and very well adapted by the Indian fashion designers who went ahead giving this traditional dress a classic makeover or face lift through the incorporation of the finest of Gold and Silver Zari threads on the best quality fabric.
Anarkali Suits Collection : 8 Beautiful Anarkali Suits for All the Divas
A gorgeous range of Anarkalis that vary in many lengths and styles with different surfaces treatments well places. Available in all categories right from casuals to semi formals and seasons preparations. Below given are some of the exciting features of this evergreen attires:
1. Lavender Anarkali Kurti 
To begin with, if your idea of a traditional outfit is limited to a saree or a salwar kameez, then it is about time you took a look at a beautiful anarkali suit. This lavendar anarkali has a soothing appeal and very much comfy for all the body types. This 3 Pc kurta pant dupatta Suit set is designed in solid cotton fabric with mul cotton Dupatta with Gotta Work.
For occasions like the wedding of a distant relative, a house warming ceremony or a house party that does not call for a lavish outfit, simple silk anarkali kurtas are a great option. While on one hand they are traditional and ethnic, on the other they can be styled as per the occasion.
To accessorize, throw in an extra piece of jewellery to dress it up or go plain with a clutch to keep your look understated.
2. Black Anarkali Suit in Bandhej
Secondly, this Black Anarkali suit in bandhej print is ideal for daily wear as well as for special occasions. Girls and women find it suitable for wearing every day since it does not present any hassle. Working women also like it better for its style quotient, which closely mimics the formal look especially the ones with collars, jackets or long coats.
These suits come in different patterns and style, and are suitable for almost all occasions. You will find outfits, starting from simple to heavily designed ones for special occasions like festivals, social events, weddings etc. Various fabrics like georgette, brocades, silk, chiffon etc. are used to make them apt for different tastes and styles. Visit the Anarkali Suits collection of Bisacraftsand check how these fabrics look ultra-gorgeous when mixed and matched, and given the right cut.
3. Indigo Dabu Print Suit
Next, if you're familiar with fabric printing techniques in India, you would know that Dabu Printing is one of the most popular ways to hand-print a stretch of fabric with various tessellated designs.
This Indigo Dabu Print Suit is definitely worth buying as they are all beautifully handcrafted and hand woven.
Now, add a long Anarkali silhouette to this mix and you will have got yourself very breezy, beautifully printed Dabu printed Anarkalis.
A style tip is complement the print with equally beautiful Chandbalis. If you're set out for a festivity a maang tikka won't hurt!
4. Aqua Anarkali Suit 
This beautiful aqua anarkali suit does just that! It is elegant, fashionable and crafted to make you look gorgeous in a subtle way. The flattering silhouette, mul cotton fabric and comfortable feel on the anarkali suit will be the best to wear for any day. It will not just highlight your looks but will also make you stand out for your elegance.
Therefore, the next time you are stuck while shopping for an outfit, without knowing what to buy, take our adivse and go in for such soothing anarkali. They are made for every occasion and can add a lot of versatility to your wardrobe.
Also read:
The Best Wardrobe For A Newly-Wed Indian Bride
Top fashion Trends For You to Flaunt In Winters
Top fashion Trends For You to Flaunt In Winters
Understanding the Rich History of Hand Block Printing
Butti Block Printing - Preserving The Art of Jaipur
Timeless appeal of Mul Cotton and Muslin Cloth
Ethnic Wear For Indian Dance Festivities: Latest & Trendy
5. Orange Anarkali Suit in Bandhej Print 
Further, this orange anarkali suit is that they offer unlimited choice when it comes to colours, silhouettes and designs. This naturally means that you can wear an anarkali on every day in a week and yet flaunt a different look every single day.
The look can be further enhanced with heavy junk jewellery, bindi and your favorite footwear. The ethnic look and design of this suit express the vast century-old Indian culture and tradition in a pleasant way.
6. Pink Anarkali Suit in Dabu Print
In addition, in today's westernized India, young career-oriented women do not feel like going through the trouble of learning the draping of a saree. As it is a time-consuming process to drape one. They prefer something that can be worn in shorter span, which is why they find Anarkali suits more suitable for them among all the Indian attires. Thus, bringing you this stunning pink anarkali suit in dabu print is one of our finest pieces.
Middle-aged women also love to wear them. It lets them move and work freely without having to manage any pallu or pleats; something they have to do constantly with a saree.
Pair it with simple jewellery, a nice hairstyle and lady you are good to go.
7. Pista Green Anarkali Dress 
This one tops our list for Anarkali Suits Collection. It is comfortable and trendy as it is an epitome of Indian silhouettes. College girls and ladies working 'round the clock, both can easily make a statement in an Anarkali kurti suit.
This 3 Pc pista green anarkali kurta pant dupatta  is designed in solid cotton fabric with pure chiffon Dupatta with silver embroidery on neck, sleeves and hem.
You can pair your this suit with white a mojri. It will be a superb combination that's worth trying.
8. Rama Green Anarkali
The style of rama green anarkali suit is full of grace and is secretly admired by many people. Hence, when you will wear this suit, you will surely feel the a royal connection and the grace associated with it.
This 3 combo set comprises a kurta with embroidery on sleeves, front cut, a pant having embroidery on hem. The best part of the pants is that it is semi-elastic. Along with that, there is a dupatta with cut work organza adorned with tassels on the corner. The material of the suit is the most comfortable ones, modal fabric is extremely breathable and soothing on the body.
To summarize, Anarkalis have a rich history and have been a part of every Indian woman. The above curated list for every woman, every body type. We do care about quality and comfort. These anarkalis are flawless, easy to wear and carry. Hope you find the most suitable attire to bring out the elegance that you inherit. 
As well as, read these:
Casual & Simple Dresses- Just For You!
Bagru Print- A Traditional Heritage Of Rajasthan
Top 5 Indian Bridesmaids Outfits
Dabu Printing- Explore Rich & Ancient Handicraft Of Rajasthan
Top Work Outfits To Ace The Office To Party Transition
Collection 2019
Sale 70% Off
Third slide