Casual & Simple Dresses - Just For You!
Posted by SHRUTI GIRDHAR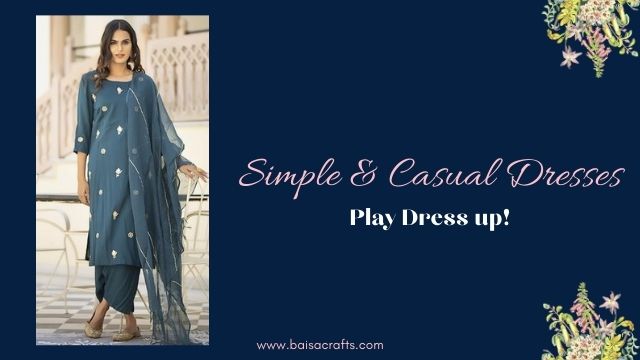 It's the season of simplicity and class! In the times when simple dresses are admired, solid outfits are one of the best choices to go for the subtle look. Solid colours suit everyone and anyone! Not just this, it can be any event and these solid outfits would make you look your best!
Suit sets, anarkalis, short dresses, and even sarees, anything looks super pretty in any solid colour, pair any of these with some matching footwear and the makeup of your choice and you are all set to make this summer way hotter than it should be.
Subtle & Simple Dresses
This summer, get these five perfect solid outfits for your wardrobe. With minimal efforts and jewellery, get the picture-perfect look!
Stunning Bottle Green Dress
When it comes to an unexpected shopping spree, or maybe an office party or even a wedding event- this dress is there for your rescue. This elegant green suit is the apt choice for any day or night event. Just a switch between the makeup and the jewellery (some oxidized jewellery for a function and something in silver for an official party) is enough for you to be ready quickly for whatever that event may be!
Pretty Bottle Green Dress Set
A friend's wedding event? A festival? Or is it one of those ethnic day parties at someone's place? This modal suit set is one of the prettiest simple dresses from the collection. The sheer elegance in this dress set is enough to embody the grace you carry and make you look like a walking goddess! Wear this piece with some flat sandals and some light jhumkas. You can also add a watch and some dark lip colour and there you go- ready to steal hearts!
Beautiful Coral Suit Dress
Coral is one of the cutest and pretty colours to ever exist. The warmth and cuteness that the colour gives off is unparalleled. This mulmul suit is literally a go-to choose for any kind of event, outing that you want to go to. With heavy jewellery it makes you party ready, with minimalistic jewellery you are going to look perfect for any casual outing! This dress set can be worn with either flat sandals or high heels. A watch can be added to the look to get a classy look.
Simple Black short dress
A date? A beach party? Here is 'the' dress! This black short dress in solid tyre style is just the dress that you need. Black is always the right choice and this dress embodies the girl-ish charm that you carry! Pair it up with either shoes (to get a casual look, can add a shirt to the mix) or some heels to look super beautiful with the makeup of your choice!
Amazing Simple Grey Dress
Office parties can be a drag, but this super comfortable and beautiful yet subtle grey dress is the one you need to look the best and enjoy! With some makeup and heels, this dress makes you all set to steal the deserved attention!
Additionally, for more information on our articles, click on the links mentioned below:
Collection 2019
Sale 70% Off
Third slide