7 Useful Tips To Take Care of Your Valuable Ethnic Wear
Posted by SHRUTI GIRDHAR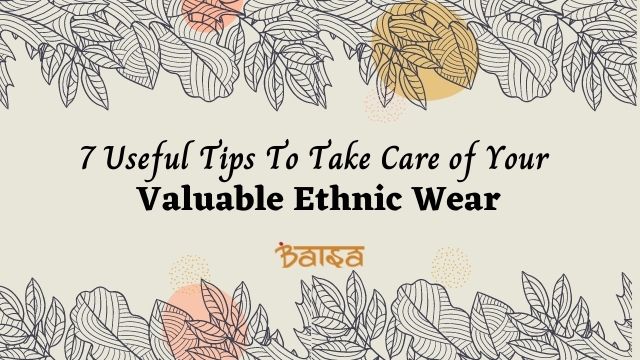 The Indian festivities are on its way, and you must be concerned about taking care of your ethnic dresses after all the celebrations. We understand it's a very common problem and needs to be tackled. Don't worry, we totally hear you! Usually, after every function, we end up putting our ethnic clothes back into our wardrobe. This not only ruins the fabric of the clothes, but also causes bad odour. Therefore, it is important to take proper care of all your pretty and expensive ethnic wear you invested in. To increase the durability of your festive wear, here are some tips to maintain your expensive Indian traditional dresses
1. Follow the wash and dry clean instructions carefully 
Usually heavy work or embellished ethnic wear comes with a 'Dry Clean Only' instruction. Follow that correctly! Always go for trusted dry cleaning services. They may charge more, but the additional cost is worth it, if it saves your precious outfits from damage, fading or losing shine. Even if a garment does not have a 'Dry Clean Only' label, first check if it loses color, before hand-washing it. Silk sarees are often washed at home only. Use good quality, gentle detergents to wash them. Plain georgettes, satins and blended fabrics are also washable. Don't use hot water, or harsh stain remover bleach for delicate clothes. Never put any embellished or silk outfit in the washing machine. 
2. Drying Delicate Indian Traditional Dresses
The most important aspect in the list of tips to maintain your expensive Indian traditional dresses is to not squeeze them while drying. Heavy outfits must not be left hanging with dripping water from them. Hanging dripping clothes can lead to loss of shape. Now, preferably, spread them flat on a neutral surface to dry. Never dry them in direct sunlight, always dry in shade. Avoid cleaning and storing heavy garments on days when it's too humid, as this would leave them moist. Make sure the garments are fully dry before you store them. 
3. Removing stains
Don't ignore dealing with the stains, otherwise chances are that they can get permanent. Stains on fabrics like cotton or polyester can be removed with stain removers; however, others like silk or brocade might need to be professionally treated. Sprinkle talcum powder on the oily stains, and let it sit, so it absorbs the oil. Afterwards, rub that area gently; take off the blotted powder; wash, if needed. For tougher stains, you can consult the seller as they might offer cleaning services. Apply a cotton ball soaked in petrol to wipe off coffee, tea or gravy stains from your silk wear. In case of food spots, let the stain dry fully, gently rub and remove the dried stain. 
4. Storing Your Outfits The Right Way
The most important step before storing your expensive  traditional ethnic dresses  is storing your valuable ethnic outfits. Always Store them in clean, dry and dark cupboards. Ensure that you are storing your silk suits in soft muslin bags to avoid twists in the fabric. Any outfit which has zari work needs special care. The zari will start to oxidize if you don't store it in a plastic zipper bag, away from moisture. Additionally, you can add neem leaves to avoid mold and insects from damaging your fabrics. Avoid hanging Indian Bridal wear or other Indian party wear dresses in hangers as they may lose their shape. Do not use rusted, iron hangers for any silk fabric of Indian ethnic. 
5. How to revive damaged Indian Traditional Dresses?
Any loose thread, stitching or button coming off must be fixed, quickly. This is a point to be taken care of under our tips to maintain your expensive Indian traditional dresses. You can also take the outfit to the shopkeeper to get the issue sorted. Lining fabrics used in stitched apparel like suits, blouses, cholis, lehengas, churidaars etc. can tear off with time. In such situations, if the stitching has come off from the seams, get the lining stitched back, before re-wearing the garment.
6. Refolding your fabric at regular intervals
This simple hack goes a long way in preserving your fabric. When your clothes are stored in the wardrobe for a long time, they tend to form permanent creases and dull the fabric shine. This happens especially in the case of silk and embroidery work. So, you must take the dresses out, keep them in the sun for a while. Then, repack them after refolding them. This practice can actually help maintain their appearance, keeping mold and bad odour at bay. Refolding them from time to time will ensure that the fabric doesn't tear from the folds. 
7. Don't Spray Perfumes On Your Outfits
Last but not the least, avoid using  perfumes  on your Indian wear to protect them from bad smell. Using perfumes, deodorants or any form of fragrance directly on the outfit may leave a permanent mark. Hence, it is advised to spray a bit on your wrist.
So, if you love your outfits and are looking forward to wearing them for your next diva appearance, don't forget to take care of them! These are some of the ways you can protect your ethnic clothes. Hope you find these tips useful.
If you have any other hacks in your mind, share with us in the comments.
Also, you will love going through our articles in case you want to shop for the upcoming Indian festivities. Do check out the below listed ones!
Top 5 Indian Bridesmaids Outfits
Top 5 Bandhej lehenga trends to look forward in 2021
Best 11 Ethnic Wear Ideas For Ganesh Chaturthi
Collection 2019
Sale 70% Off
Third slide