Ethnic Wear For Indian Dance Festivities : Latest & Trendy
Posted by SHRUTI GIRDHAR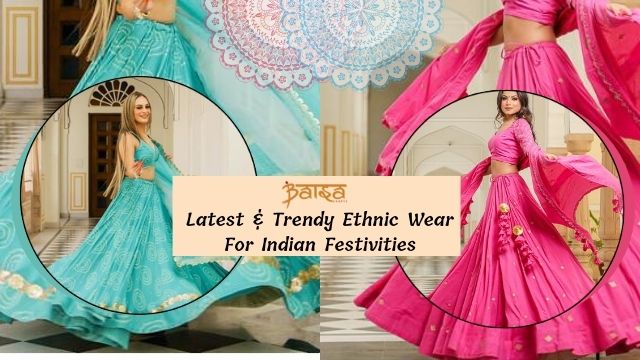 Dance is a gift of having the opportunity to be able to express through movement and imagination. It is an art that brings people together with creativity and music. Dance is joyous and brings unity with that happiness. Scroll down for the most stunning ethnic wear for Indian festivities. 
National dance Day is celebrated to connect with all the wonderful people and to twirl around in your costumes. Moreover, the upcoming festive season is all about dancing around, spreading cheerfulness and positivity.
Significance of Indian Dance and Ethnicity
The Indian Dance culture is thousands of years old and plays a significant role in Hindu culture. Dance is a rich field for exploring various styles such as  classical, folk, Bollywood etc.  representing both local and global audiences. Using the body as a medium of communication, the expression of dance is the most intricate art form. A dance educator or a choreographer is one category of dancers. Another is non-professionals which means that you don't need to be a professional to become a dancer. Just feel joyful from within and move your body.
It is the time of festivities and celebrations. A time when all the ladies are searching and wanting to wear traditional outfits. And dancing is an integral part of every occasion in India. Any occasion be it Sangeet, birthday celebrations, parties, family functions are absolutely incomplete without a dance. Additionally, dance  competitions and performances for ethnic culture, rituals and religion are always ongoing events in our country. 
Rock In these 7 Ethnic Wear For Indian festivities
Here is taking a look at the most stunning ethnic wear for Indian festivities and their physical appearances. 
Best Diwali Dress- Magenta Mulmul Lehenga
To begin with, this magenta lehenga featured with beautiful gotta work and tassels is making us dance around like a princess. Indian ceremonies are one of the most awaited functions throughout the year. From beautiful dance performances to colorful and stylish outfits, every event is full of cheer, laughter and excitement. This Magenta color is a pop out that brings out the glam girl in you. Want to check out its images and description? Just click on this direct link! 
Green Mulmul Cotton Frock Suit
Go with this sober yet classy green suit. Mul mul cotton fabric is the most comfortable wear of all time. The 3 combo kurta pant dupatta dress suit is designed in solid cotton fabric with pure cotton Dupatta with gota on hem. We know and can absolutely visualize that a dancer in you will come out after wearing this. Isn't this giving pure Bollywood feels? In case you feel like buying this, click here to navigate to the direct link . 
Mehendi Green Dabu Print Suit
Next on the series of ethnic outfits for Indian festivities is this one. For those who prefer comfort over Jazz, this Dabu Printed cotton suit is a perfect outfit. Certainly, the most highlighted feature of the look is its white subtle looking borders! Team it up with pretty traditional earrings and flat footwear. To make your search hassle-free, we are providing you the direct link for the suit. Simply click here to go straight to that. 

Shine in the moonlight and celebrate the festival of togetherness in this stunning Zarina lehenga. We wish you happiness and eternal love this festive season. Adding everlasting joy and beauty to your dance, the richness of zari work will add unlimited charm to the occasion. Accessorize it with light golden jewels and don't forget to capture Instagrammable photos in this look. Hop on to this lehenga by clicking here . 
Magenta Bandhej Sharara Navrati Dress 
From stylish Indo-western outfits to traditional wedding wear, an Indian occasion makes it super fun to dress up. This gorgeous magenta bandhani Sharara suit will make your heart go boom. It gives that Desi vibe and can be worn on almost any occasion, be it a home gathering or outside. An excellent choice for the Bollywood style of dancing which demands both chic and flow. Also, Kota silk dupatta with sitara lace work gives it shine and beauty. In case, you need a direct product link for this outfit, please click here . 
Mint green Modal Lehenga For Durga Puja
If too much work and detailing is not your thing then this dazzling mint green lehenga is just the perfect match for you. This lehenga is the look which will make you grab all the praises in the gathering. You will surely be a Diva and centre of attraction. Its flair & sitara lace on hem adds extra grace to the twirl. The kota silk dupatta with sitara laces on edges is amazing to look at. The tassels at the back will win your hearts. Can't resist purchasing it? Simply click here to get to this outfit. 
Peach Mulmul Suit Set for Durgotsava

Last but not the least, for Lovers of simple and casual ethinc wear, here you go. The pretty nice peach color is all you must be looking for. Isn't it? Well, this color is something which looks good on almost every festive celebration. The 3-Piece dress adorned with contrast piping on the neck & hem adds extra detailing to the look. Do click here to check out this outfit. 
Let us know in the comment section, which is that song that comes to your mind if you imagine yourself in these outfits. 
In case you want to read about Casual & Simple Dresses, check out our article on the same.
Also, do check our articles on:
Top 5 Indian Bridesmaids Outfits.
Top 5 Bandhej Lehenga trends to look forward in 2021
Collection 2019
Sale 70% Off
Third slide