Timeless appeal of Mul Cotton and Muslin Cloth
Posted by KRISHAN KUMAR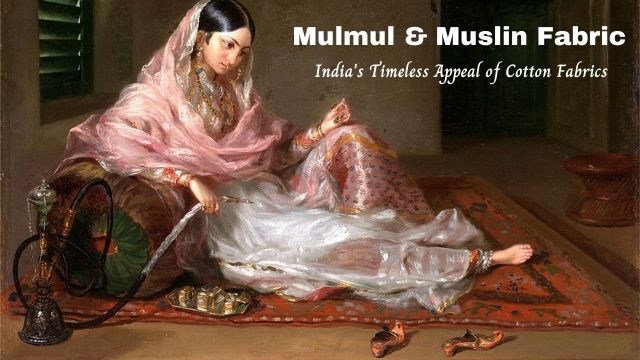 India's tale of pure Mul cotton and Mulmul Muslin cloth dates back to the ancient times. They are feather-light and baby soft in texture and are a part of the our handloom legacy. Moreover, both the fabrics are highly breathable. Additionally, they have a wide variety of uses, including art and crafts, fashion designing, theater, and photography.
Mul Cotton : Feather- like & Smooth
Mul cotton is the softest, lightest form of fine cotton and is popularly also known as mulmul cotton. It has a feather soft finish and feels like butter on your skin!
Mulmul has its roots of royal beginnings. It was the ideal choice in pop-culture as it introduced in the famous Bollywood 1949 song "Hawa mein udta jaye mera laal dupatta Mulmul ka."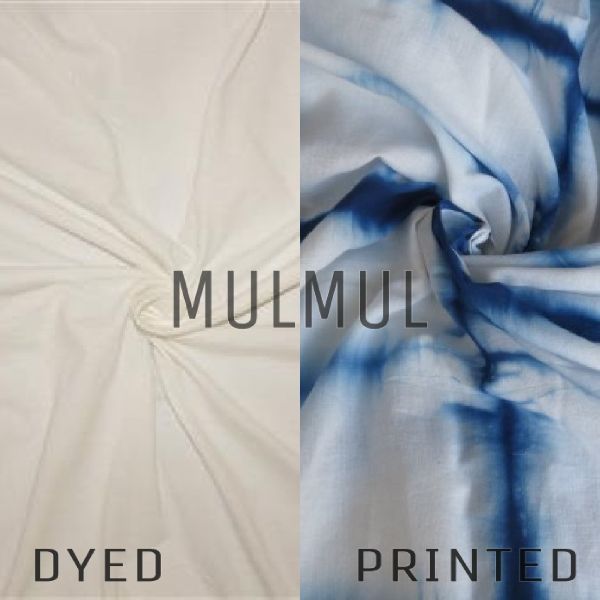 Flexible, versatile, and fashionable are a few words that aptly describe this textile. I love working with mulmul because I can create everything from dresses to skirts, trendy tops to stylish kurtas, without a second thought about its final look and appeal. It's ideal for the summers, its unmatched in comfort, and it's simply a delight to the eyes. What more can one ask for?"
Muslin Cloth : Light-weight & Comfy
Muslin is a term implying cotton fabric of plain weave. Let's understand what is a plain weave.
What is a plain weave?
Plain weave is the method by which yarns are interlaced to create a fabric. So, it is the basic type of weaving. It includes:
Warp - Also known as Taana in Hindi. They are the yarns that run lengthwise in the fabric. Afterwards, they are tied to two opposite ends of the machine.
Weft - Also known as Baana in Hindi. They are the yarns that run widthwise in the fabric. Then, they are passed through it in to create a plain weave pattern.
Consequently, plain weave looks like a grid.
This is one of the superior qualities of cotton fabric. It is characterized by its minimalistic weight, typically being less than 68 gms/sqm. Due to its light-weight nature, it is prone to wrinkles and it shrinks a lot. If the fabric has more of them, then even by ironing the fabric, they don't disappear.
Today, it comes in varied forms, popular among which is the mulmul fabric. Light, easy to maintain, and especially comfortable, the mulmul cloth is recommended for almost any occasion and season.
Furthermore, muslin fabric is also known as the test fabric. Whenever a new outfit is made, it is always made by using muslin cloth.
History of Mul Cotton and Muslin Cloth
India has been home to multiple fabrics and prints that are unique. Each one of them tells a story about our heritage and culture. Two of such fabrics that are dear to our hearts and close to our history are Mul cotton & Muslin fabric.
Mul cotton, popularly known as mulmul cotton has a rich history. During the Mughal Era, when the trade of this fabric was flourishing, the Britishers aggressively tried to suppress it. The industrial manufactured and the imported fabric could not compete for the supreme hand-woven counterpart in India. For this reason,  the Britishers decided to cease the production and knowledge by cutting off the thumbs of the artisans.
Muslin fabric was first made by Bengali weavers many hundred years ago. In fact, the commercial viability of this delicate fabric was perhaps established in Europe almost a 1000 years ago or more, and we know this since 'Muslin' has been referred to by a few ancient Greek and Roman writers in their works. It was definitely traded in Europe by 17th century, and was one of the prized imports from India. Later the manufacturing of mulmul or muslin started in England and Scotland.
Significance of these Fabrics
People in India have clothed themselves in these fabrics for ages. Certainly, we've seen our grandmothers, mothers, aunts in awe dressed in them. It is never going out of fashion in India and now people abroad are exploring them.
Beautiful Outfits in Mul Cotton and Muslin Cloth
We have handcrafted several outfits by using high quality Mul fabrics. Being delicate & lightweight are the inherent properties of this fabric. Set your own fashion statement with our range of outfits in mulmul fabric. We continue to splurge on the pretty prints and colors of outfits.with our beautiful  Panchi Collection.
1. Pretty Blue Mulmul Cotton Suit 
To begin with, this 3-piece  Mulmul Cotton Suit  is an elegant choice for you. Classy and elegant as it gets! .  The fabric has been spun from the best quality cotton and will gift you comfort in a stylish way. A nice blue colored kurta  with piping on neck & hem, a dupatta having cut work on the edges.
2. Gorgeous
Hand Block Printed MulMul dress
Look at this gorgeous  Mulmul dress  designed with hand block printing. Women love and enjoy outfits made in floral prints. This dress is the perfect pick for you to revive them. A light & vivacious printed dress with breathable fabric. Oozing a subtleness and panache for you to make an elegant and royal impression.
The season of the blooms calls for the florals in the look and this dress justifies it all. Make sure you pair it with the right flipflops for an even charming look.
3. Amazing Mulmul Dress in Aqua Color 
Next, presenting a dress full of sunshine with our superior quality  mulmul fabric . Crafted in hand block print , this one is a wonderful addition to your summer wardrobe. Flowy, elegant, and flawless this outfit will make you grab all the praises, wherever you go.
To team it up, you can wear nice earrings and your favorite comfortable footwear. And you will good to go and rock your day!
4. Royal Beige Mulmul Suit 
This mulmul suit in beige color gives a very subtle and calming vibe. Crafted with the idea of promoting the our artisans designing such pretty designs. This suit comprises a kurta with contrast piping on neck & hem, a palazzo, and a mulmul dupatta beautified with cut work.
These  mulmul cotton suits  are soaked in empowering colors that presents poise and are uplifting in nature!!
5. Charming Peach Muslin Dress
Last but not the least, this V-neck  muslin dress  in peach color has our heart.  Extremely pleasing and easy to carry, this can be a great casual outfit in any occasion. Aren't these frills making you go gaga?
Look forward to be the spotlight of any gathering by dressing up in stylish attire.
In addition, do have a look at other articles you would absolutely enjoy reading!
Diwali Ethnic Wear
7 Useful Tips To Take Care of Your Valuable Ethnic Wear
Ethnic Wear For Indian Dance Festivities: Latest & Trendy
Top 5 Bandhej lehenga trends to look forward in 2021
Collection 2019
Sale 70% Off
Third slide