Bagru Print - A Traditional Heritage Of Rajasthan
Posted by SHRUTI GIRDHAR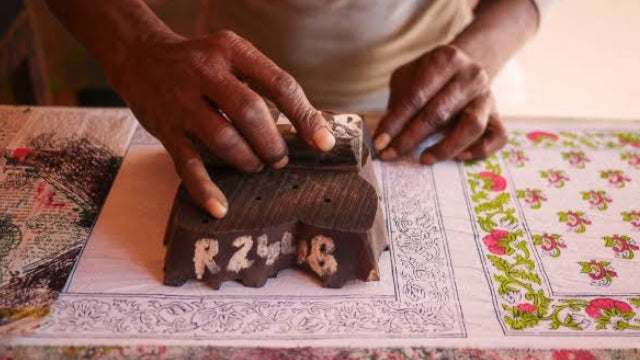 Bagru print is one of the ancient techniques of printing with natural colour followed by the 'chippas' of a remote place of Rajasthan. The Bagru Prints, unlike other prints, includes a different type of printing. Also, the unique method for printing uses hand-carved wood blocks. 
Introduction
Block printing is an art form made by turning wood into hand-carved stamps for textile designs. We aim to share the beauty of this Rajasthani tradition with the world – taking part in a rebirth of block printing. Popular for traditional hand block printed fabrics is a small town called Bagru situated in Jaipur. Bagru prints are done on off-white and beige backgrounds. Motifs of circular designs, flowers, fruits, birds create allure on fabrics like crepe, georgette, chiffon, silk, cotton.
History
Indians is the hub of culture and the art of dyeing and printing with fast natural colours. Bagru village is famous for its block prints, usually done with natural dyes made from materials like iron, tree gum, indigo and Amla.

Bagru textiles gained popularity between the 16th and 17th century with the East India Company exporting them in large quantities to Europe. At present, Bagru always focuses on the local market, catering to other rural tribes and communities.
The village town is not popular for any palace or fort but for keeping alive the centuries old tradition of printing. The hard work and devotion of artisans continues to ensure  survival of this traditional art.
Process
In this process, the preferred design is engraved first on wooden block and then carved block is used for copying the design in the chosen color on the fabric. Each step of the process is perfomed very carefully with the help of highly skilled craftsman.
Washing the Fabric
First and foremost, the fabric used for block printing must first be washed, soaked for up to 48 hours, and dried out in the sun before the design process begins. 
Carving Teakwood
Then, a block print artisan, also known as "chhipa," carefuly carve handcrafted designs into teakwood. These designs often consist of motifs inspired by local flora and fauna, animals, or religion.
Dyeing the Wooden Blocks
Afterwards, the block is handed off to "rangrez" who dip the wood stamps in traditionally natural dyes and places the pattern onto woven fabric.
Final Washing For End Print
Finally, the process is taken over by washers or  "dhobi" who capably wash the fabric, ensuring that the colours have set and the fabric is ready for market, manufacturing, or purchase.
 5 Best Bagru Print Outfits
Brown Bagru Cotton Suit
One of the exclusive collections of Bagru Prints is this pretty brown colored 3-piece cotton suit. For those who prefer comfort, this masterpiece has it all. Moreover, without compromising on fashion, it delivers every aspect of beauty.
Red Bagru Cotton Suit
Slay in this gorgeous Red Bagru suit featuring a Anarkali, straight cut plazo pants and a dupatta adorned with lace on its edges. 
Indigo Orange Bagru Dress
A suit with amazing design work. Super elegant in this charming Indigo shade. This fabulous Blue Bagru Print suit is here to ensure you're the star in a crowd full of basics. 
Musturd Bagru Cotton Dress 
Play along with a great colour combination in our new Mustard Bagru Print Dress Set. The flowy pattern is one of the reasons this outfit is super comfortable!⁠ 
Light Brown Bagru Print Dress
Grace your presence at any event or function in our Light Brown Bagru Print Dress Set, and see the magic for yourself. The gorgeous prints and the stunning dupatta are absolutely eye-catching! 
Additionally, for more information on our articles, click on the links mentioned below:
Collection 2019
Sale 70% Off
Third slide