Dabu Printing - Explore Rich & Ancient Handicraft Of Rajasthan
Posted by SHRUTI GIRDHAR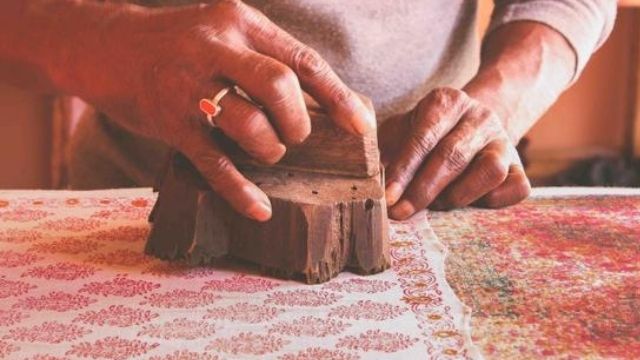 One of the most incredible crafts made by hand, Dabu printing is a process practiced in many parts of Rajasthan. Uses vibrant colors to make magnificent prints with the help of mud resist.
Introduction to Dabu Print
A unique design technique of dyeing and printing with distinctive colors and designs to make a traditional wear all the more attractive. "Dabu" basically means "Dabana" in Hindi which means "to press". Therefore, it's an art of dipping different shaped and sized mud resistant blocks in natural dyes. Then the blocks are pressed on countless fabrics. Let's dive into its history! 
History 
A sample of Dabu printing is believed to be found in Central Asia. It then moved to Rajasthan, India in the 8th century A.D., which is now a well-known producer of much-loved block print fabric materials. This technique started in Akola, a small village in
Chittorgarh district
of Rajastha.
Additionally, one of the very interesting facts about Akola Dabu is the process by which the artisans create the magic. The Akola block printers use pure black Dabu mitti(mud) unlike other parts of Rajasthan, which uses Besan atta mixed Dabu.
Process
We call the creators of this ancient art as Magicians! 
The process of Dabu printing is very detailed and quite complicated. It is the sheer talent and devotion of the artisans who provide us such amazing hand looms treasures. Includes multiple stages of washing, dyeing and printing. 
Step 1: First and foremost, the fabric to be printed is first washed to make it starch and dust-free. 
Step 2: Secondly, the wooden blocks are then hand-carved with intricate designs 
Step 3: Third, next is to prepare mud resist mixture that's made with gum, lime and white chaff. 
Step 4: Afterwards, this mixture is applied to the blocks and then dried.
Step 5: Following a rigorous lengthy dying process, the blocks are then dipped in fast natural dyes. Absolutely no chemicals are used in the process. 
Step 6: Furthermore, the fabric is hand printed using blocks dipped in dyes. Then, it is banged hard on the fabric with the fist on the back of the handle to imprint a good impression. The printing starts from left to right. 
Step 7: Lastly, the fabric wash to remove unwanted dye and paste.
It takes a lot of days to finally get the fabric ready.
The end result is beautiful! 
IMPORTANT INSTRUCTION:
Dabu printed suits are essentially dipped in natural dye colors. These prints are commonly exposed to a lot of color bleeding, which is very common as it's a part of the process. Our artisans as well as product packaging persons always make sure that none of the product is dispatched without proper washing.
However, for your convenience, we suggest you to follows these instructions: 
1. Firstly,
wash
the suit once before wearing it. 
2. Use
mild detergent
. 
3. Lastly,
rinse
it thoroughly before putting it for drying, as the excess color drainage will happen in the very first wash. 
5 Best Dabu print Outfits

Give them a reason to stare! This
red Dabu print suit
one of the best suit sets from Dabu collection. For those who prioritize comfort, this masterpiece has it all. Moreover, without compromising on fashion, it delivers every aspect of beauty. A 3 piece combo set includes a charming red Kurta, straight fit white cotton pants and a dupatta with lace on all edges.
Next, is this
cotton Sharara set
in black and white color. Again, a 3 piece set including a classy and elegant peplum style kurta, very flowy sharara and a dupatta adorned with gota lace work on the edges.
For all the Indigo lovers, this gorgeous
Dabu kurta set
will win your heart and soul. The intricate design on both kurta and dupatta is an evidence of the hardwork and authenticity of artisans. Represents royalness! It's super light and soft. Isn't this a wonder in itself? 
Wearing clothes is one thing, but wearing art? That's something exceptional! This fabulous
mustard colored Dabu print suit
is here to ensure you're the star in a crowd full of basics. The print and texture of the fabrics used is extremely pleasant.
Last but not the least, is this bright
Fuchsia A-line Dabu kurti
set. A traditional ethnic wardrobe is absolutely incomplete without this color. Moreover, combining it with stunning Dabu printing is an icing on the cake. The print on the kurta speaks its own magical language.  It's charm increased manifolds. 
India being the pioneer in hand loom creativity, Dabu printing is one such art which retains our craft heritage. And when hard work, sincerity and loyalty is involved, the creation always reaches people. 
Additionally, for more information on our articles, click on the links mentioned below:
Collection 2019
Sale 70% Off
Third slide