Ajrakh Print - India's Remarkable Journey Of Rich Culture
Posted by SHRUTI GIRDHAR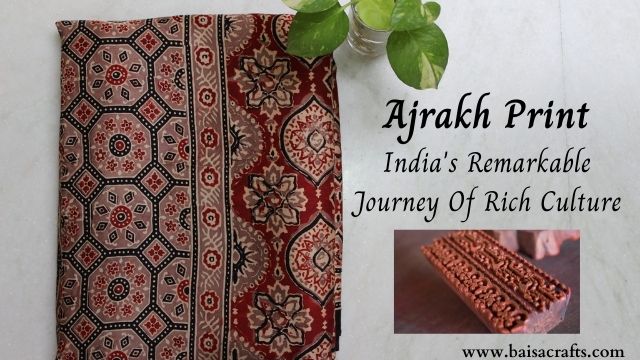 Ajrak Print is a form of block print that originated from the Sindh region of Pakistan. Ajrakh printing is a skilled craftsmanship practised in Gujarat. The traditional hand printing method is 4500 years old. Some things are so subtle that they do not glare out, yet so vivid that one cannot help but appreciate the aesthetics in their creation. One such craft is the Ajrakh.
What is Ajrakh Print? 
The term Ajrakh is derived from the Arabic word 'Azrak' which means blue. The art form has influences from Sufism, in the choice of colours and motifs used for printing. Ajrakh block printing has more geometrical shapes and uses dark colours like blue, red and black.
Nature holds a lot of significance in the making of Ajrakh. Additionally, the craftsmen work in total harmony keeping environment sustainability in mind, where the sun, river, animals, trees and mud are all part of its creation. 
History
Ajrakh was produced by a community of people called "Khatri" artisans who belonged to Sindh, the original heartland of Ajrakh. They later migrated to a village near Kutch, called Dhamadka. (Kamaladevi Chattopadhyay, was instrumental in reviving this art form).
In the earlier years, Ajrakh printing was done only on shawls and cotton yardage. Later, from the 1970s, they made saris, and also diversified to printing on silk fabrics, mainly in Gajji satin and Mashru.
Printed on both sides, Ajrakh fabric printing was done on cotton as dhoti or lungi, turbans and shoulder cloth. Apart from this, pagdis and lungis the women wear printed skirts, and use the ajrakh fabric as bed covers to line cradles for babies. Every colour tells a story and the design images the status. 
Presently, the process has been changed with shortcut approaches and it's no more labour intensive. However, then the complexity and grace of lines are compromised. Moreover, addition of chemical dyes reduce the quality of the colours
Therefore, the art of Ajrakh has evolved a long way and has beautified with every point and time.  
Process
Ajrakh fabric printing, using natural dyes, is one of the oldest techniques of resist printing in India and is one of the most complex and sophisticated methods of printing. Ajrakh Print includes a sequence of hard and long drawn processes. The process is as follows:
Saaj
First and foremost, cotton fabric is taken to remove any dirt or starch. Then, it is soaked in a solution of camel dung, soda ash and castor oil. The next day the cloth is semi-dried in the sun and then soaked in the solution again. The process is repeated for about 7-8 times until the cloth is completely free of dirt.
Kasano
The cloth is washed in a solution of the powdered nut of the Harde tree. The cloth is sun dried on both sides. The extra solution on the fabric after drying is brushed off.
Khariyanu
The cloth is printed on both sides using carved wooden blocks. This outline printing is known as Rekh. These wooden blocks have registration marks in the design carved symmetrically to enable double sided printing.
Indigo dyeing
Afterwards, the cloth is dyed in indigo color. It is dried in the sun and then dyed again in indigo twice to ensure a uniform colour.
Rang
Then resist print with clay, alum and gum Arabic mixture. The grey areas from the black printing stages get a deep shade. 
Further, it's dipped in different natural solutions like indigo ,alizarin, madder root or henna to get its favourite color ranging from Indigo to yellow to brown. At last, extra dye and resist removed by one or two washes.
Feel the ancient aesthetics with 5 Ajrakh Dresses
We bring you beauty of traditional art from the interior of India close to your doorstep. Check out our beautifully handcrafted Ajrakh printed dresses.
Ajrakh Long Indigo Kurta
To begin with, this 2 Pc combo has flared kurta and dupatta set. It is designed in ajrakh print on cotton fabric with mulmul cotton Dupatta. It is graced with silver embroidery on the neck and sleeves. We know Indigo color with cool subtle prints are every ladies' favorite. keeping that in mind, we have attached a link to this Ajrakh Kurta.
Red Ajrakh Lehenga Choli
Second on the list is this perfect for the wedding or any festive occasion. The best part of this outfit is that it's comfortable and super light. Moreover, you can team it up with your favorite high heels to elevate the look. Making your search hunt easier, we provide you the direct link for this dress.
Blue Ajrakh Print Twin Set
Endorse the Indian craft by wearing this twin set have A-line top and flared palazzo in ajrakh print cotton. To add to it, flaunt this super comfy twin set at your office, business meeting or as a casual day out. Made with natural, organic & eco friendly raw material, this look is all classy look and comfy! As well, incase you feel like adding this classic outfit to your wardrobe.
Red Ajrakh Kurta with Dupatta
This simple yet elegant long kurta in red color will be extremely soothing to wear. It features a flared kurta and a dupatta designed in ajrakh print. Plus, the material used is cotton fabric with silver embroidery on neck, sleeves. Feel like buying this suit? Here you go! Click here to shop!

Red Ajrakh Potali Dress
This stunning and vibrant red dress will be your bae! You can wear this on any party, beach trip, a daily outing , literally anything. Fabricated in pure cotton, it is a total standout. This dress will make you look a class apart with its beautiful design. In case you want to shop this dress, click here to get to that.
Additionally, for more information on our articles, click on the links mentioned below:
Collection 2019
Sale 70% Off
Third slide