Traditional Trends : Dazzle in the Trendy Golden Hand Block Collection this Festive Season
Posted by KRISHAN KUMAR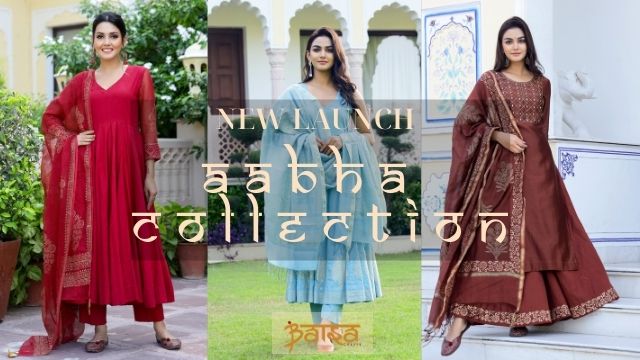 Hand block printing is the art of creating prints on fabric through carved wooden blocks that are dipped in dye. Additionally, and are repeatedly slammed along the length of cloth to create beautiful patterns. Our new hand Block Prints collection has been a pride for us as it represents the country's vast heritage and rich culture.
The specialty of Hand Block Printing
Hand Block Printing has its origin from Mughal times. Presently, hand block printing has taken a different transition. It has been an elaborate process and one of the most admired arts. However, but many updations are added to it, to update it as per the current trends.
Looking at the current situation of hand block print fabrics in the market, the future of these fabrics seems to be quite impressive. From blocks, it will take time to get the designs customized where people can contribute to designing prints and patterns. Instead of wasting time in engraving, hand block printing should be made customized to complete the task in a time-friendly way. Experimenting with block prints is a timeless art. Also, such prints combined with chunky jewelry give a chic and modern look, which is not dying at least for many years to come.
Latest and Trendy Hand Block Collection
We have launched our new collection of block prints with love, hard work, and devotion. From subtle to vibrant colors, there is a diverse range to suit everyone's style sense.
The collection is available in a wide range of designs and prints that complement one's style. Whether it's for a day at the office, a wedding, or a casual day out with friends, they are for every event.
Easy to Style - Maroon Anarkali Suit
First and foremost, this Anarkali Fit Kurta is adorned with a pleasing hand-block-printed design. The combo comprises an maroon Anarkali hand embroidered chanderi Kurta, a flared mulmul palazzo, and a stunning chanderi golden hand block printed dupatta in mulmul fabric. Definitely, this will compliment your personality. Just look at the detailing, the print. We have fallen in love with it and we are sure you will also. Moreover, this kurta dupatta set can be pair with your favorite jewelry for perfect looks. All in all, it's the perfect addition to your wardrobe.
Graceful Pink Hand Block Suit Set
Second of all, this pink suit set showcases the old-world charm of hand block print with modern design & silhouette. The neutral pink shade of the 100% premium cotton dress is adorned with intricated Mughal motifs. Plus, the urban ethnic charm of this piece has been elevated further with its superb cut, fit, and flow. Again, this set features a chanderi kurta, golden hand block printed flared palazzo pants, and a beautiful chanderi dupatta.
To elevate its elegance, you can team it up with a nice jewelry piece, earrings, and traditional footwear.
Elegant Blue Hand Block Print Suit 
Third of all, this print celebrates the charm of Indian tradition. This pretty hand block print on the blue palazzo suit set has the calming beauty of a shimmering lake under the bright blue sky. Made out of 100% premium chanderi, the grace with palazzos ensures all-day comfort. It features beautiful hand-block printed patterns on this pristine blue base.
In addition, opt for a gorgeous choker and nice open hairstyle, and baby you are done.
Also, there are two shades of blue in this similar Anarkali suit set. Another is a subtle hue of this color. Just click here to have a look on this!
Vibrant Green Anarkali Suit- Defining Comfort
Furthermore, this beautiful green kurti suit is lightweight, breathable, and soft to keep you feeling super-comfortable throughout the day. The three-piece hand block printed suit set features beautiful hand embroidered chanderi kurta block print which reflects impeccable craftsmanship. Then, golden hand block printed flared palazzo in mulmul fabric. Dupatta is based on kota doria fabric with a light golden shimmer hand block print. Wear the complete set with silver accessories for the perfect look.
Besides this, we have a khaki green shade in this suit. Do check it out!
Royal Red Hand Block Print Suit Set 
A charming Handcrafted in an A-line silhouette, this red Anarkali Kurta comes with a gorgeous pattern. In terms of hand-embroidery, this cotton kurta features fluent thread work on it. The kurta and dupatta both are crafted in chanderi material.  Apart from this, it's best suitable either for a casual or a festive event.
To keep it elegant, style it with a traditional neckpiece, nice makeup, and a cute hairdo. And you are all set to go and rock any gathering.
Delightful Brown Ankarli Kurta Palazzo Suit 
Showcasing the age-old Jaipur hand block-printing technique, this brown Anarkali set is adorned with amazing golden hand embroidery work. It comes with a beautiful dupatta which adds immense grace to the entire look. Tailored in soft chanderi fabric, this Kurta is styled in a flared silhouette. The hand-embroidered work, the shimmer that this piece has accentuates its appeal.
To complete the look, wear it with golden jewelry by applying simple makeup.
To add to this, you might be interested in these interesting reads.
Ethnic Wear For Indian Dance Festivities: Latest & Trendy
Casual & Simple Dresses- Just For You!
Bagru Print- A Traditional Heritage Of Rajasthan
Top 5 Indian Bridesmaids Outfits
Dabu Printing- Explore Rich & Ancient Handicraft Of Rajasthan
Top Work Outfits To Ace The Office To Party Transition
Lastly, we hope that you liked our collection of hand block prints. DO let you know in the comment section. We would love to read your feedback.
Collection 2019
Sale 70% Off
Third slide