Panchi Collection-Beat The Heat With Best Summer Wear
Posted by BAISA CRAFTS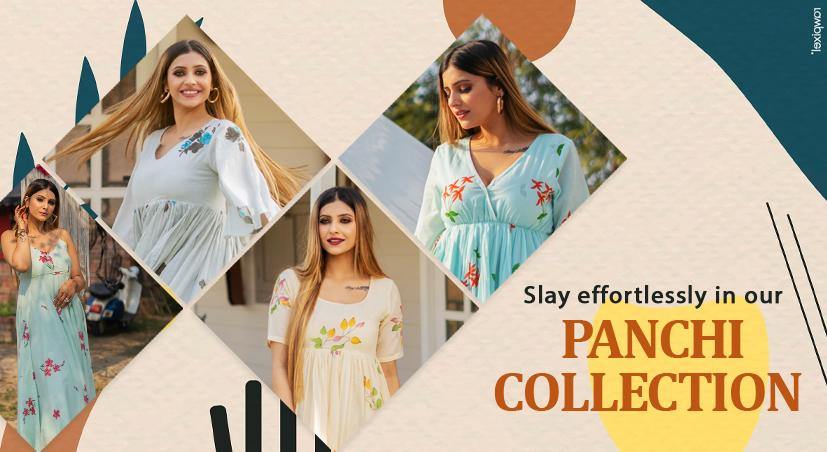 It's time to get out and explore, enjoy, go on cute dates, parties and meeting your friends! While it is definitely fun to go out, it is always a trouble to look for that cute dress. To save your time and to give you the best options for you to fill your wardrobe- here is a curated list of 5 best summer outfit in mulmul fabric that are going to add to your charm! 
Aqua Summer Wear
To begin with, crafted in handblock print mulmul dress, this outfit exudes the cool and calm look and is perfect for a beach party, a kitty party or just a casual meetup with your besties! Also, this light blue dress can be paired up with flowery earrings or a cute little flower pendant, a watch and some flat sandals!
If worn in winters this dress can be accompanied with a short denim jacket, giving you a very casual, cool look! 
Pista Green Mulmul Dress
Want to go shopping, attend an occasion, or maybe on a coffee date? This light colored mulmul dress is just the apt choice for you! The color and the design exhibits a very fresh and a chill vibe and is thus perfect for any small occasion.
Moreover, this can be paired up with a watch, some rectangular, triangular or circular earrings and flat sandals! In addition, it can be paired up with a crop jacket to make it a winter-y dress and it will be you slaying where you go! To make your hunt easy, we have attached a direct link of this summer outfit in case you would want to but it. 
Beige Tulip Summer Dress
Thirdly, on the list of women summer wear is this handblock dress with these beautiful eccentric designs is just the go-to dress for any day event! Whether it is a casual or a semi-casual event, this tulip mulmul dress is set to make you look great! The warm, cozy yet a pretty angelic look the dress exudes makes it the perfect choice for any event ranging from a casual meet up to a formal social gathering! 
As well, pair it up with some flat sandals, a silver pendant or a small silver earring, a ring and a watch and you are just ready to enjoy in comfort meanwhile stealing the attention form around you! In case you want to buy this dress, click here to get to that.
Pretty Summer Outfit 
A jam night and you don't have anything decided on what to wear? Well, here it is- the jasmine mulmul dress! This cute, stylish dress is perfect for any event whether it be day or night. A slight change in accessories and you are good to go whenever and wherever you want to!
Additionally, the light color of this dress encompasses a breezy, light look and suits any kind of event that you want to go to!
High heels, flats, watches, earrings, rings, bracelets, rings or even anklets, pair it up accordingly with the type of makeup you put on and you are all ready to be the wind that steals everyone's breath! Get your hand on this beautiful summer outfit. Simply click here to have a hassle free shopping experience.
Sea Green Summer outfit
Got a date and still unsure of what you have to wear? This beyond perfect dress is here for your rescue- the sleek, light flare look this dress has makes it the best option for a date, a song jam night, or even a party! With a long overcoat, this dress can also be worn in winters giving you a very classy look! Don't you think of adding this fresh piece to your wardrobe? 
Pair it up with some sleek-and stylish earrings like some rectangular, triangular or circular earrings and a watch, with heels or flats and some makeup and there you go- all set for the perfect day!
Additionally, for more information on our articles, click on the links mentioned below:
Collection 2019
Sale 70% Off
Third slide