Chikankari - Ancient Art of Traditional Embroidery
Posted by KRISHAN KUMAR
A craft style believed to be introduced in the 3rd Century BC, Chikankari embroidery of Lucknow is said to be introduced by the Mughals. Interestingly, this famous craft is famous across India and all around the world and is delightfully worn by people.
Chikankari, A Lucknawi Art
Chikan Embroidery is said to be one of the oldest and traditional form of embroidery, which find its roots in the City of Nawabs. The simple and intricate handwork on the fabric, gives it a very subtle, royal feel that modern embroidery methods lack.
The embroidery pattern is usually done by a thick white cotton thread on soft pastel colors of blue, teal, pink and white. Chinakari is an significant artwork amongst other handloom skills of India. Moreover, it has mesmerized everyone - from the royals of history to today's trendsetting celebrities. Light, gorgeous and filled with history, this craft is a classic heart warmer for anyone who first sees it.
History Of Chikankari Embroidery
The word 'Chikan' is derived from the Persian word 'Chikin' or Chikeen which means " running thread through cloth". Noor Jahan, the wife of Mughal emperor Jahangir, introduced the Persian art in India in the 17th century.
The embroidery became very famous with the king and his nobles. Afterwards, they started the work of embroidery on muslin and other fine cottons with multiple stitches. In present times, this work is done on cotton, wool, chiffon, crepe, organdie chiffon and silk clothes using different color threads.
Having said that, it is also considered by many that Lucknawi Chikankari work began as early as the 3rd century BC. Megasthenes, a Greek traveler, has mentioned the use of flowered muslins by Indians.
It is said that a traveler, who was passing through a village in Lucknow, stopped and requested a farmer for water. Joyful at the hospitality of the man, the traveler trained him the Chikan work which would ensure that he would never remain hungry in life.
Most importantly, there are 6000 families devoted in Chikankari embroidery in and around villages of Lucknow. The cratfsmen belong to local Muslim community. Around 90% of Chikankari work is done by women.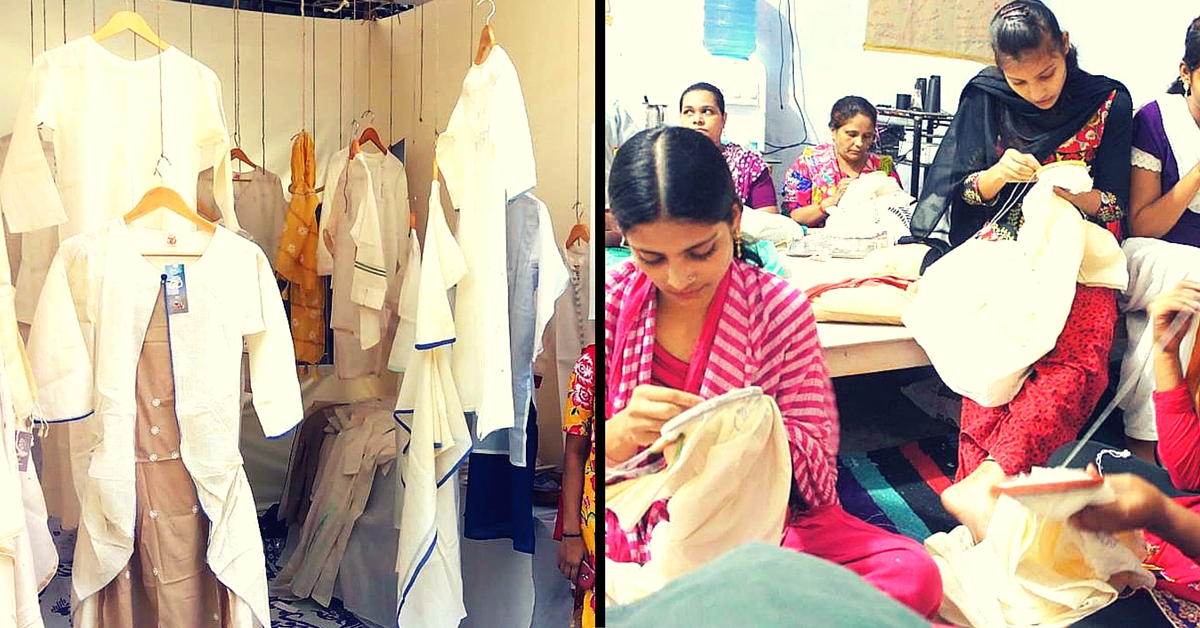 Apart from Lucknow, Delhi, Mumbai are the other centers popular for Chikankari suits.
Interesting Features of Chikan work
• To begin with, the art of Chikankari in India is about 400 years old. It is believed that this is a Persian craft, which was introduced by Noor Jehan, wife of the Mughal Emperor Jahangir.
• Further, Chikankari embroidery features multiple patterns and designs of muree, lerchi, keelkangan and bakhia. It is a detailed form of embroidery that often uses motifs of Mughal architectural themes.
• It is a fine hand embroidery done on a variety of fabrics that include chiffon, muslin, silk, organza, net, cotton, etc.
Process
Chikankari is a unique way of designing fabric. It's an laborious method that is designing, engraving, block printing, embroidery, washing and finishing.
Designing 
First and foremost, the design for the embroidery work is prepared.
Engraving
Secondly, the design is then engraved on the wooden block.
Block Printing 
Furthermore, the pattern to be embroidered is stamped onto the fabric by hand with a wooden pattern block that has been coated with Neel (indigo).
Embroidery 
Then, comes embroidering the printed design where the main role is of needlework. Plus, the embroidery work is more intricate and carefully done as compared to other steps.
Washing
Finally, the cloth is soaked in water for a while. Then, washed several times to remove any residue of ink left and finally is ready to use.
In a nutshell, Lucknow city is the most renowned place for Chikankari work. The origin of Chikankari is initiated by the influence of intricate carving patterns of Mughal architecture during their period. It is a detailed hand embroidery done on a variety of cloth materials like cotton, silk, net, etc.
Also, do you want to know about other Indian artworks? Do check out these articles and dive into the craftsmanship of our ancient culture.
Bagru Print- A Traditional Heritage Of Rajasthan
Dabu Printing- Explore Rich & Ancient Handicraft Of Rajasthan
Ajrakh Print- India's Remarkable Journey Of Rich Culture
Collection 2019
Sale 70% Off
Third slide