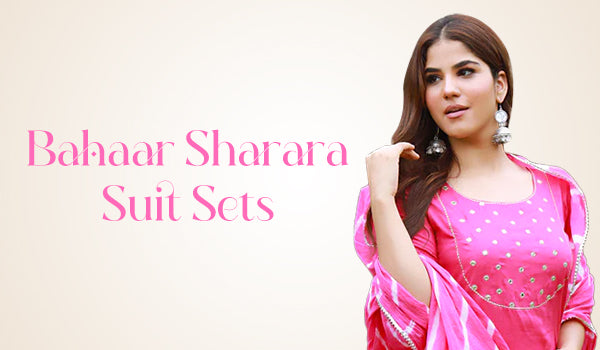 BLOOMING ELEGANCE:
Step into a world of blooming elegance with our Bahaar Sharara Suit Sets Collection – a mesmerizing assortment of ensembles that capture the spirit of springtime beauty and grace. Each suit set is a tribute to the vibrant colors and intricate designs that make you feel like a vision of splendor. Allow us to introduce you to the allure of our Bahaar Sharara Suit Sets Collection:
SPRINGTIME CHARM:
Imagine adorning yourself in the radiant charm of our Bahaar Sharara Suit Sets. Each set resonates with the joy and vibrancy of spring, reflecting the blossoming flowers and the rejuvenation of nature, creating an enchanting look that's as fresh as the season.
VIVID COLORS:
Our Bahaar Sharara Suit Sets seamlessly blend vivid colors with intricate patterns. From lively hues to captivating prints, each set captures the essence of the season and celebrates the exuberance that comes with the arrival of spring.
TIMELESS AND TRENDY:
From festive occasions to cultural gatherings, our Bahaar Sharara Suit Sets are versatile ensembles that adapt to various events. These suits effortlessly combine the classic charm of sharara fashion with the spirit of the season.
YOUR PERSONAL STYLE:
Elevate your ensemble by accessorizing our Bahaar Sharara Suit Sets with jewelry and footwear that complement the springtime allure. Experiment with different combinations to create a look that reflects your unique style while embracing the beauty of the season.
CELEBRATING SPRING'S SPLENDOUR:
Explore the allure of Bahaar Sharara Suit Sets through our online store at https://baisacrafts.com/collections/bahaar-sharara-suit-sets. Embrace the blooming elegance that each set brings to your wardrobe. Celebrate the fusion of classic sharara fashion with the vibrant energy of spring, allowing you to effortlessly embody the beauty and charm of the season while showcasing your personal style with confidence.