Top 5 Chiffon Sarees to Flaunt This Summer
Posted by MANNY SAHU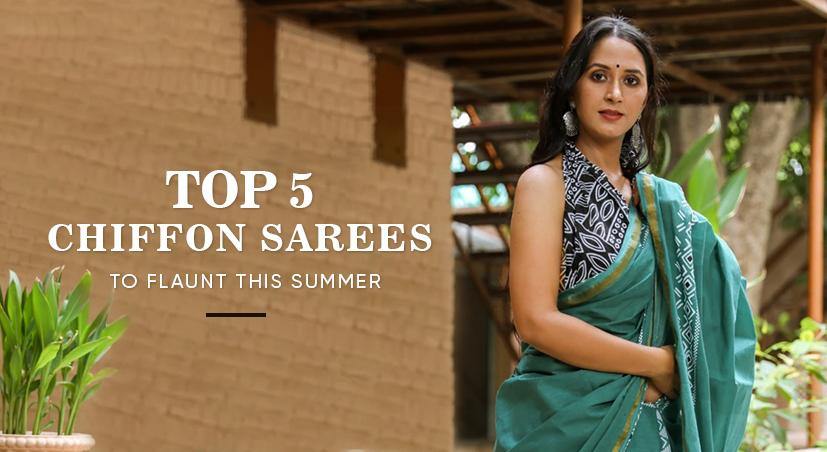 From Kareena Kapoor in 3 Idiot's raining song to Sushmita Sen in Maine Pyar Kyun Kiya's rain dance, chiffon sarees seem to have lovers around Bollywood.  Believe it or not, but when we think of this saree, our mind start picturing a heroine draped in it, singing, grooving while her hero tries to woo her. Moreover, there are numerous Bollywood movies that have graced women in chiffon. You know why Bollywood can't get over this saree? Because this saree makes the wearer look damn pretty, feminine, and stunning.
Also, the fabric of a chiffon saree is lightweight, flowy and lustrous. It perfectly drapes around a woman's curves and highlights her figure. Further, it's airy that makes the wearer feel comfortable even in summers.
Now, let's see top five chiffon sarees that you should flaunt this summer.
1.Yellow pure chiffon block print saree
First and foremost, this pure chiffon saree with golden border is truly amazing. The block print all over gives the saree a decorative look. For summer season, it's a perfect addition to your wardrobe. In addition, the traditional print always endows the wearer with a classy look. Draping it will make you look completely awesome.
Wear a red bindi and traditional jhumkas to complement the look.
2.Teal pure chiffon block print saree
Summers are for pastels. As the days are hot, wearing bright colors will be hard on eyes. But this pastel teal chiffon saree will make your summer days super cool. Additionally, the golden border and the white print at it add to its beauty. Above all, this saree is perfect to be worn at official parties or even small family functions.
Also, accessorize the look with ethnic earrings and your favorite footwear.  
3.Aqua pure chiffon block print saree
Next, on the list is this beautiful aqua pure chiffon saree. Plus, the beauty of paisley print is outstanding. On top of that, this saree available in aqua color is all about coolness and class. Therefore, when you want to ditch the regular color and opt for something unique, aqua is the color to try.
Club it with oxidized jewellery and flat sandals for a gorgeous look.
4.Pink pure chiffon block print saree
Pink is pretty, pink is feminine. This color has followers all over the world. Almost every woman likes to wear pink. We bring you this pure chiffon saree in pink color to grace your feminine. It features a golden border and block print all over for a remarkable look.
Pair it with golden trinkets or traditional jewellery for an appealing look.
5.Blue pure chiffon block print saree
Do you want to close your summer season on an ethnic note? Get draped in this blue chiffon saree that's all about gracefulness. Certainly, the beauty of blue is hard to express. From summer to winter, this color looks outstanding on almost everyone.  The combination of golden and white with blue is a complete classic.
As well, wear matching jewellery for a gorgeous makeover.
So, ladies! Which pure chiffon saree did you like the most? Let us know in the comment section below. Stay tuned for more tips and tricks.
Collection 2019
Sale 70% Off
Third slide