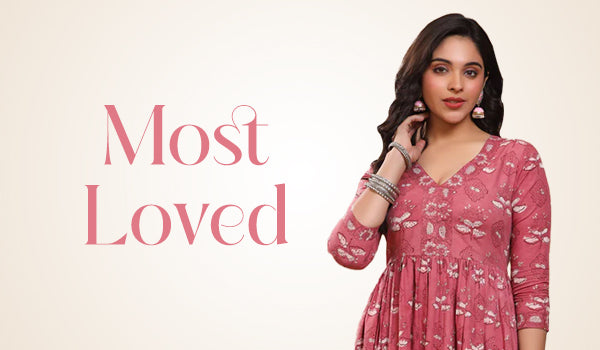 BELOVED ELEGANCE:
Step into a world of beloved elegance with our Most Loved Collection – a carefully curated array of outfits that have captured hearts and garnered admiration. Each piece in this collection is a testament to the perfect fusion of style, comfort, and beauty, designed to make you feel cherished and confident. Allow us to introduce you to the allure of our Most Loved Collection:
TIMELESS APPEAL:
Imagine adorning yourself in the enduring charm of our Most Loved Collection. Each outfit resonates with a timeless appeal that has stood the test of preferences, offering you ensembles that effortlessly combine classic aesthetics with contemporary flair.
ADORATION AND ADMIRATION:
Our Most Loved Collection represents the pieces that have earned admiration from our customers. From intricate details to impeccable craftsmanship, each outfit has a special quality that makes it a beloved choice.
VERSATILITY REDEFINED:
Whether it's a casual outing or a special celebration, our Most Loved Collection adapts seamlessly to different occasions. These ensembles have become favorites due to their versatility, empowering you to embrace style and comfort.
YOUR PERSONAL SIGNATURE:
Elevate your ensemble by accessorizing our Most Loved outfits with your favorite accessories. From statement jewelry to comfortable footwear, each piece becomes a canvas for you to express your unique style and personality.
EXPLORE BELOVED STYLES ONLINE:
Explore the allure of Most Loved Collection through our online store at https://baisacrafts.com/collections/most-loved. Embrace the elegance and charm that each outfit brings to your wardrobe. Celebrate the fusion of adoration with style, allowing you to effortlessly embody cherished beauty while showcasing your personal style with confidence.