Sadabahaar Kurta Pant Set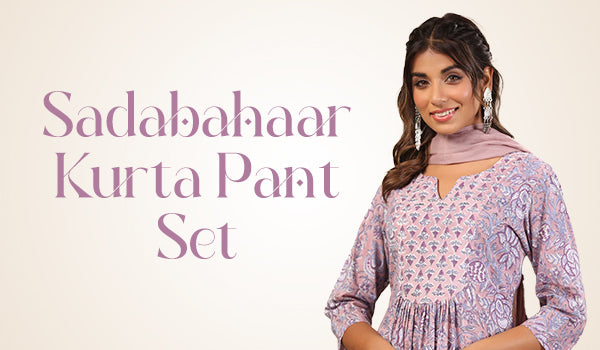 VIBRANT ELEGANCE:
Step into a world of vibrant elegance with our Sadabaahaar Kurta Pant Set Collection – a captivating ensemble of outfits that encapsulate the charm and beauty of evergreen styles. Each set is a tribute to the timeless grace of Indian fashion, carefully curated to add a touch of vibrancy to your wardrobe. Allow us to introduce you to the allure of our Sadabaahaar Kurta Pant Set Collection:
TIMELESS CHARM:
Imagine adorning yourself in the evergreen charm of our Sadabaahaar Kurta Pant Sets. Each set reflects the essence of classic Indian fashion, offering you ensembles that seamlessly blend tradition with contemporary elegance.
VIBRANT COLORS:
Our Sadabaahaar Kurta Pant Sets seamlessly merge vibrant colors with intricate patterns. From rich hues to captivating prints, each set is designed to make you stand out and celebrate the beauty of Indian aesthetics.
EFFORTLESS VERSATILITY:
From casual outings to festive celebrations, our Sadabaahaar Kurta Pant Sets adapt to various occasions with ease. These ensembles are versatile choices that can be styled differently to suit your mood and the event.
YOUR PERSONAL TOUCH:
Elevate your ensemble by accessorizing our Sadabaahaar Kurta Pant Sets with your favorite jewelry and footwear. Experiment with different combinations to create a look that resonates with your individual style and personality.
CELEBRATING ELEGANCE:
Explore the allure of Sadabaahaar Kurta Pant Sets through our online store at https://baisacrafts.com/collections/sadabahaar-kurta-pant-set. Embrace the vibrant elegance that each set brings to your wardrobe. Celebrate the fusion of classic charm with contemporary design, allowing you to effortlessly embrace the evergreen beauty of Indian fashion and showcase your personal style with confidence.